today, inbetween spanish revision, i watched the seven year itch which i had never seen before. this is widely regarded as the film which turned marilyn monroe into a star, & i was really impressed by it. i loved the shifts into fantasy, and of course marilyn's costume changes.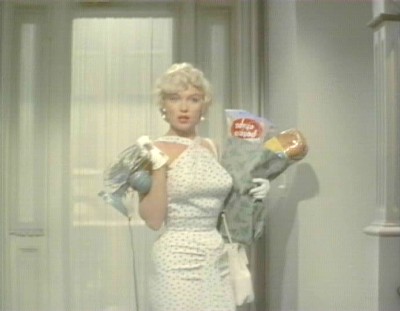 if i could look this effortlessly glamourous while carrying groceries, i think i'd be rather pleased.
this wasn't one of my favourite outfits from the film, but this scene shows her amazing grace and elegance - which i had actually never realised before. normally when i think of 1950s-60s hollywood elegance, i think of people like audrey hepburn, sophia loren or rita hayworth, but marilyn is well & truly up there now.
anybody who can look elegant in a dressing gown carrying a breakfast tray is forever in my icon books.
of course, this film is famous for the "skirt scene". marilyn looks lovely in this dress, but i think it's kind of sad that she never got past the "sex symbol" status, and was neveer lastingly, happily married because of that. she was beautiful, but only because she would never be seen any other way.